Here at Metanet Software, we make games AND merch/swag. Making merch in-house is pretty cool for a number of reasons:
We find that creating unique and stylish products and packages is an interesting way for us to think about the project we're working on from a different angle. It lets us really dig into the aesthetics and personality of the project to figure out what is special about it and how to showcase that. Plus we find that bringing influences and insights from other media, and from the craft world, makes for a better, more interesting game.
More practically, making our own merch also gives us a chance to work on something completely different (yet still related), and in the non-digital world, which is good for productivity and stress-management. And it's also cool for fans and players — often what we make is very limited-edition, so fans can feel like they've really got something special that few others have.
Speaking of which, check this out. Whenever we hold an N++ tournament, we give these hand-printed certificates to the winners:
Here's how we made them! Meet Print Gocco, a beloved Japanese home-screen-printing machine that Mare bought in Tokyo in 2007. It is compact, clean and easy to use, unlike traditional screenprinting, but the trade off is perhaps that the screens are small, about 4″x6″. They are perfect for postcards, invitations and other stationery, or you can also print on fabric.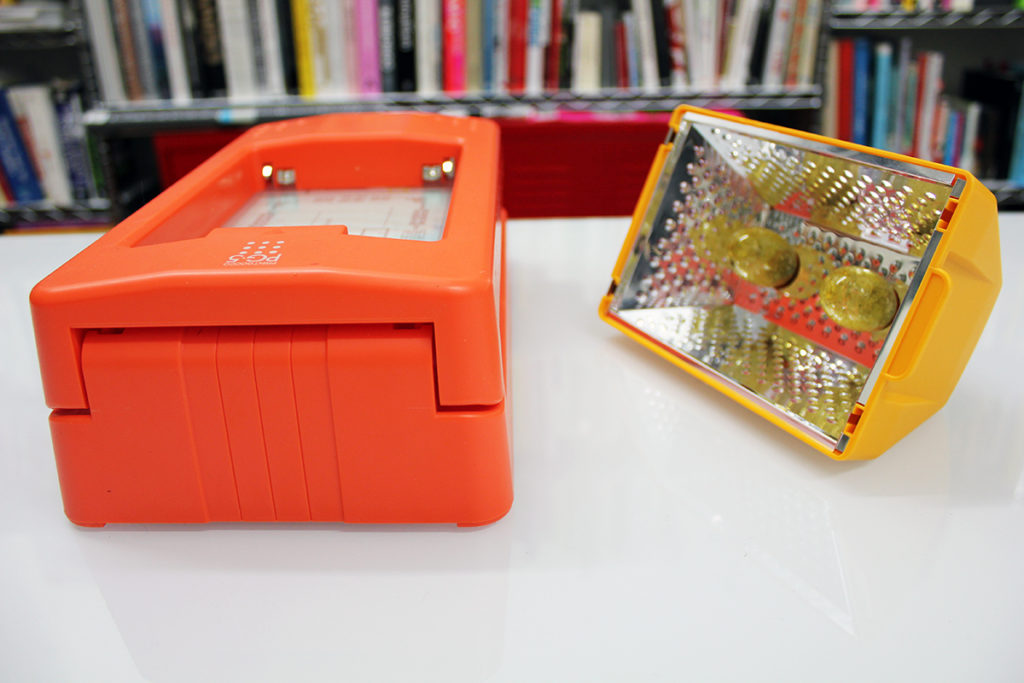 The process is incredibly easy from start to finish. You just print your design on a laser printer, pop it and a pre-made screen, batteries and old-school flashbulbs in the Gocco unit, and then push the Gocco closed to burn the screen with a burst of light (see the image at the top of the post).
Then you use ink blocking foam to separate areas of your screen that require different colours:
Add the ink to the screen (we used two colours, gold and black):
And return the screen to the Gocco, which now becomes sort of a large stamp. You place your paper or other media on top of the Gocco's spongy, slightly adhesive bed and then close it, which causes the ink to be pressed through the screen and onto your paper.
Then you repeat that process until you've made the number you need, re-inking the screen when necessary, and that's it! Print-making is actually a very calming and enjoyable process, and it's very satisfying to be able to create high-quality works with relative ease. And the final prints are so crisp and clean and gorgeous — there's nothing quite like the beauty of ink on fine paper. Plus clean-up is very easy too! There's no downside! we just love Print Gocco!
If this seems interesting to you, you should try screenprinting too! Riso has unfortunately discontinued production of Print Gocco and supplies, but you can still find them around the internet because of their large and loyal fan-following. And there are a few other home screenprinting machines out there too, we think, though we haven't tried them. If you have the space, of course, you can always just go the traditional route.
Good luck, and happy merch-making!